Earlier this year, it became clear HBO are winding down the clock on the Game of Thrones. Ever since that announcement was made, lovers of the fantasy drama created by David Benioff and D. B. Weiss have waited for something special to make an appearance on their Tv screens. For most of us, that wait ended on the 2nd of October when the same network brought to life Westworld: A show based on the 1973 film of the same name, which was written and directed by American novelist Michael Crichton. Westworld is created by Jonathan Nolan and Lisa Joy, and produced by J. J. Abrams, Jerry Weintraub and Bryan Burk. With Academy award winner Anthony Hopkins leading the cast, it's no wonder why the show has already been renewed for a second season. But that isn't where that ends, according to entertainment weekly, the showrunners have as much as 5 years' worth of materials to keep the show running.
"It wasn't about getting the first 10 [episodes] done, it was about mapping out what the next 5 or 6 years are going to be, we wanted everything in line so that when the very last episode airs and we have our show finale, five or seven years down the line, we knew how it was going to end the first season." Said James Marsden while explaining why the network halted production for a few weeks.
LIFELIKE ROBOTS DESIGNED TO FEEL AND FUCTION PLAYING PARTS IN LITTLE NARRATIVES
Westworld is a technologically advance western-themed park where visitors pay $40,000 a day to enjoy all the park has to offer; Adventure, sex, mystery, you name it. The park plays home to humanoid robots synthetically generated to look, act, and function as all humans do. They all play different roles in the park as some believe themselves to be actual gunslingers, prostitutes, and outlaws… That is, until the newer builds (Operating systems or layers of codes the humanoid robots are built to run on) are installed on the hosts and the repercussions severe. The robots are built to function and in the case of any programming error or in-park accident, they are wiped clean inside and out leaving no memory of previous lives or builds.
The park is run by Robert Ford (Anthony Hopkins) and owned by a mysterious company which goes by Delos destination. Robert Ford, the co-creator of the park is more interested in the hosts and how he can get them closer to humanity if possible whereas, Delos' main concern is the intellectual property being destroyed by the ever-tinkering mind of Ford who plays God in this pulsating show. During the course of this show, the most recurrent questions you will have to answer will be "Just how many hosts are on this show and are they limited to in-park activities? i.e. Are there hosts outside of the park?"
SPOILERS
The latest instalment of the show gave us an insight to how deep that question goes as one of the most human entities on the show was revealed to actually be a host designed to kill at command – giving rise to another question, has Ford created the ultimate build all along? How many times are we expecting this? After all, we also thought Teddy Flood was a guest. With the central idea the show is built upon, this could go on and on.
HBO
But if Bernard is a host, we need this explained...
Or is Ford even more evil than we think?
There was a murder on the last episode… So how to get away with murder will be to create a double for the dead… The dead being Theresa whom Ford earlier confronted but refused to back off. If we're getting a new Theresa, that will confirm Ford's comment saying the board has at several times sent people to reprimand him but every time he manages to evade being fired perhaps courtesy of a board member or employee who has been swapped out for a body double.
Bernard having found out he is a host will be a real talking point for the next few episodes. He will be left to confront his morality, existence and loyalty while sourcing information to feed back to his maker. With the show nearing its finale, there have been quite a number of fan theories to suggest the show should have a befitting end.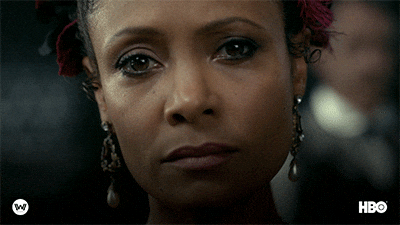 Let's also not forget that Maeve is up to something.